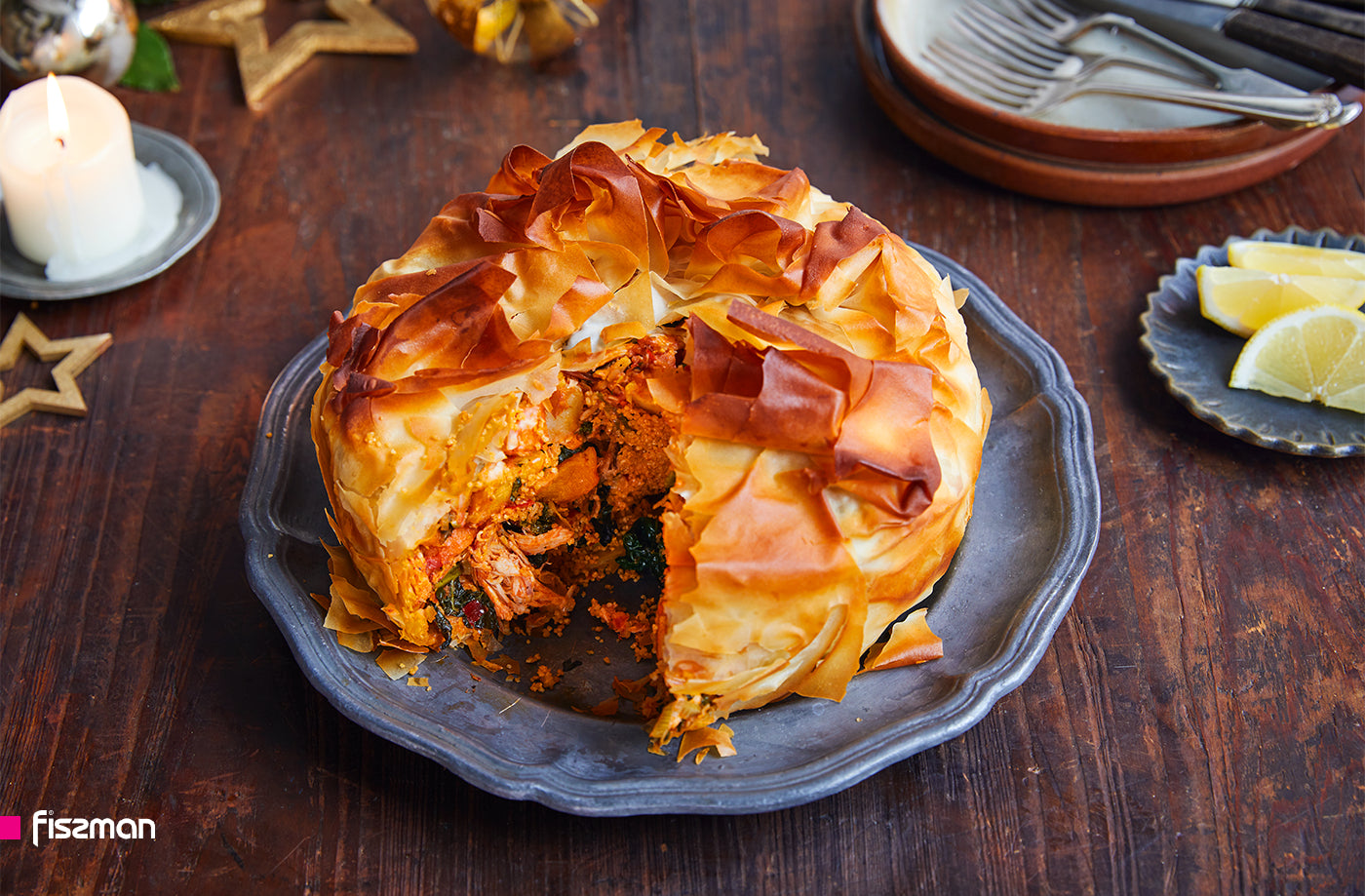 Moroccan-spiced turkey pie recipe
Do you like baking? Try this recipe!
Ingredients
2 tsp coriander seeds
2 tsp cumin seeds
pinch of ground cinnamon
2 tbsp olive oil
2 aubergines, cut into small dice
2 banana shallots, halved and sliced
2 tbsp harissa
2 peppers (any colours will do), deseeded and diced
227g can chopped tomatoes
1 chicken stock cube
500g leftover turkey (a mix of leg and breast is best), chopped
100g butter, melted, plus extra for greasing
250g pack (about 10 large sheets) filo pastry
25g flaked almonds
STEPS
1. Toast the coriander and cumin seeds for 1-2 mins. Add the cinnamon, olive oil, aubergine and shallots. Coat the veg in the spices and cook on a medium-low heat for about 10 mins until the aubergine has softened slightly. Add the harissa and peppers. Stir, then add the tomatoes and crumble over the stock cube. Simmer, uncovered, for 20 mins until the veg is tender and the mixture is nice and thick. Stir through the turkey meat and season well. Set to cool.
2. Heat oven to 200C/180C. Lay two sheets of filo over the base of the tin and brush with the melted butter. Cross over another two layers of filo and brush again with butter. Repeat, then put the cooled filling in the center. Using the remaining four pastry sheets, cover the filling and brush with more melted butter. Scrunch the top of the pie together and bake for 30-35 mins.
3. Remove from the oven and scatter the pie with the flaked almonds. Cook for a final 10 mins until the pie is golden and piping hot. Serve straight away.
We used our round baking dish 16×7 cm / 1.0 LTR VALENCIA (ceramic) for this recipe.
Order now and try your baking skills!