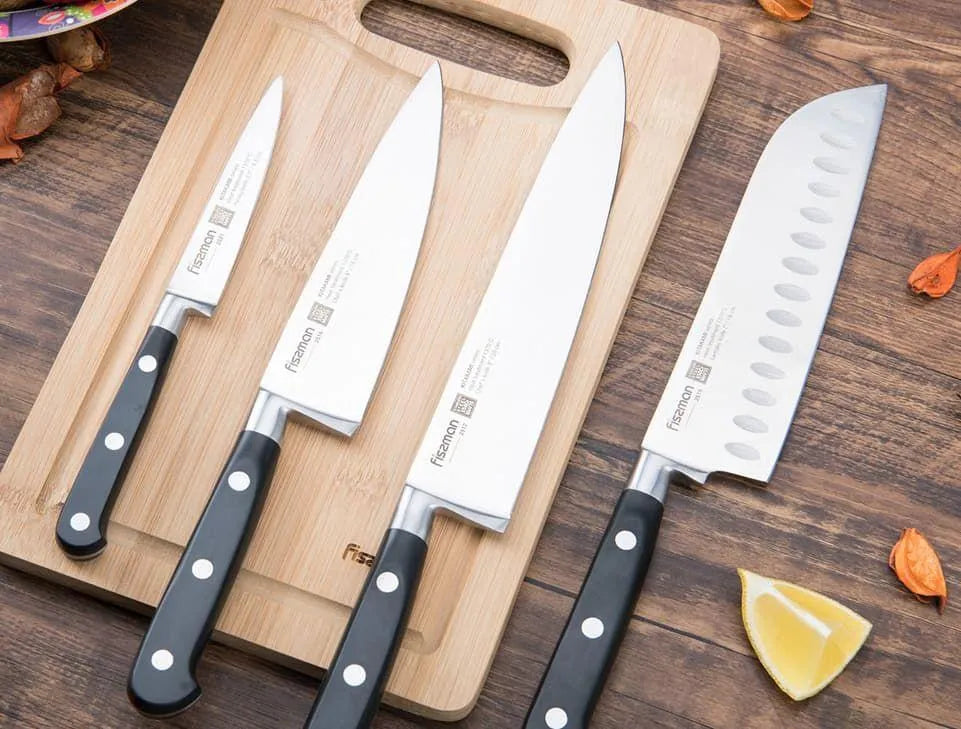 German steel X50CrMoV15
Knife bolster for balancing the blade
All-metal construction of the knife
Thickened blade tip for finger protection
Hand grip
Plugs for securely attaching the hilt to the blade
Hollowed surfaces to prevent food from sticking to the blade
Embossed cutting edge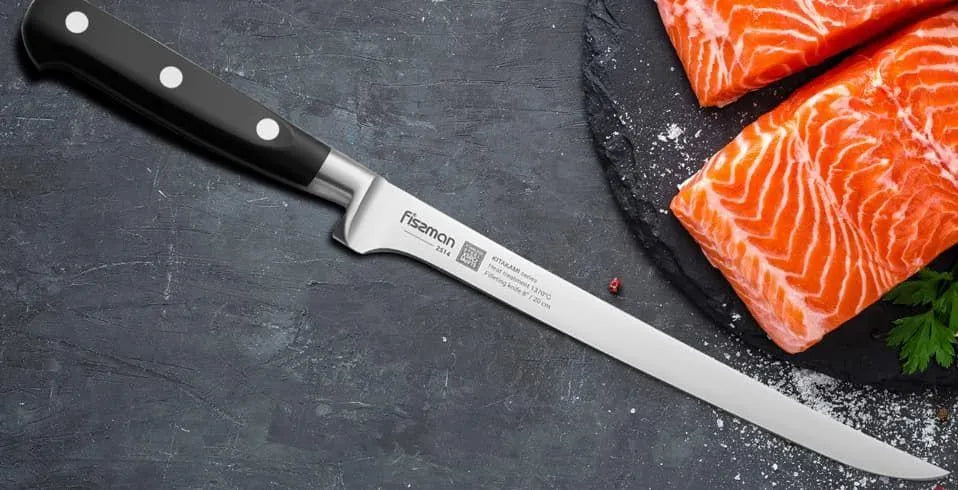 The German X50CrMoV15 steel
The German X50CrMoV15 steel has an optimum percentage of carbon and chromium. This provides the optimum balance of hardness and durability for the knives.

The main advantages of knives made of X50CrMoV15 steel are

-excellent corrosion resistance
-mechanical resistance
-blade keeps well sharpened
-durability
-reliability
The KITAKAMI kitchen knives are made of high-alloyed German X50CrMoV15 steel, hardened to 57 Rockwell. They are highly durable and suitable for frequent use. The blades have a double-sided symmetrical sharpening along the entire length of the cutting edge for easy cutting and chopping.

The thickened heel of the blade prevents slipping of the fingers onto the blade and provides additional stopping power during use.

Each model is equipped with a stainless steel bolster that spreads the load evenly during use.

The polypropylene handle, in a classic design, is firmly secured with three screws. Thanks to the matt coating it is slip-resistant and guarantees safe working.

SKU 2512 and 2516 This chef's knife is an indispensable aid in the kitchen. You can use it to slice fillets, dice vegetables and tenderise meat. You can also use it to crush garlic and spices, tenderise steak or split crab shells.

SKU 2513 The gastronomic knife is suitable for cutting all types of food into perfectly thin slices thanks to its long, narrow blade. It also comes in handy for preparing Japanese dishes like sushi and sashimi.
SKU 2515 and 2518

The santoku knife is designed for chopping vegetables, thin slices, cutting meat and fish. The hollows on the surface facilitate use: they trap air when slicing, so food does not stick to the blade.

SKU 2517

The boning knife makes it easy to separate meat from bones, gristle, sinews and skin. It is also suitable for filleting fish, meat and poultry. The long, narrow blade makes it easy to get thin, perfectly smooth slices.

SKU 2477

The steak knife is ideal for cutting steaks exactly the same size and shape. Its distinguishing feature is its thin blade. The blade penetrates the meat with ease, without losing any of its precious juices. And with its serrated edge, it works well with well-cooked pieces. The steak knife is also handy for dividing pizzas into portions.