VEGA
Sold out

Original price

AED 191.00

Original price

AED 191.00

-

Original price

AED 191.00

Original price

AED 191.00

Fissman

When choosing a product for your brand-new kitchen, it is important to know what you will be using it for. Frying pans that are coated with an in...

View full details

Original price

AED 191.00

Original price

AED 191.00

-

Original price

AED 191.00

Original price

AED 191.00

Save

46

%

Save %

Original price

AED 242.00

Original price

AED 242.00

-

Original price

AED 242.00

Original price

AED 242.00

Fissman

FISSMAN are the recognised leader in the cookware market and present their new VEGA series of cookware including Greblon C3 + PEEK coating, develo...

View full details

Original price

AED 242.00

Original price

AED 242.00

-

Original price

AED 242.00

Original price

AED 242.00
Induction base suitable for all cooker types, has high thermal conductivity
Cadmium and lead free
Does not contain perfluorooctanoic acid
Free of aminophenols and alkylphenols
Safe for health and the environment
Approved by professionals

Thick walls - even heat distribution, high strength
Deeply shaped - ideal for stewing
Bakelite handle with soft-touch coating is comfortable to use, comfortable to touch, non-slip and does not heat up
Wear-resistant ≥ 50000 cycles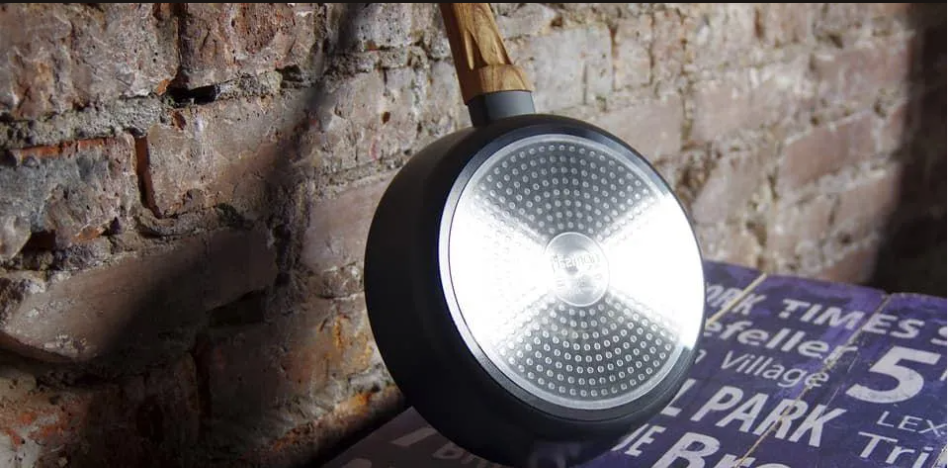 Greblon C3+PEEK coating characteristics:
Greblon C3+PEEK includes 3 layers (1 layer to improve the adhesion between the coating and the metal, 2 layer a mineral-based, high-strength non-stick coating, 3 layer an additional extra strong roughened layer reinforced with ceramic particles)

Thickness: 60-90 μm
Hardness: ≥2.5H
Wear resistance: ≥50000 cycles
Maximum heating temperature: 260℃
Each new series of FISSMAN kitchen utensils is the exclusive development of a team of creative professionals. The technologists and designers manage to harmoniously combine the stylish appearance of the products with excellent performance characteristics.

FISSMAN, a recognised leader in cookware, presents a new range of VEGA with Greblon C3+PEEK, developed and produced in Germany by the experienced technologists at Greblon (www.greblon.com). The new range is suitable for preparing tasty, healthy meals in home kitchens and exquisite dishes in restaurants and cafés. Professional and amateur chefs can show off their skills with the best features of VEGA frying pans coated Greblon C3+PEEK: comfort, capacity, durability and excellent non-stick properties.

- Greblon C3+PEEK is highly rated by professional chefs around the world. - The key features of VEGA pans are their high wear resistance (≥50,000 cycles) as well as their resistance to damage and abrasion. - The Greblon C3+PEEK coating is exceptionally environmentally friendly: It contains no health or environmentally harmful compounds. VEGA frying pans meet international environmental standards and have the appropriate certificates. The "APEO free" label indicates that the materials used do not contain any aminophenols or alkylphenols. FISSMAN does not use PFOA, toxic, carcinogenic components in its cookware.


- The deep shape allows you to cook for the whole family, saving time and energy. The high sides are not only suitable for frying, but also for stewing.- The deep shape allows you to cook for the whole family, saving time and energy. The high sides are not only suitable for frying, but also for stewing.

- The induction bottom of the pan heats quickly and evenly to the desired temperature, preventing food from sticking. The rough non-stick coating ensures that your food is easily browned and has a deliciously crispy crust.

- The thick walls of VEGA pans ensure even heat distribution and prevent deformation caused by overheating or falls.

- The unique Bakelite double-locking handles will not come loose over time. The handles are finished in a noble brown woodgrain shade. Thanks to the soft-touch effect, they are comfortable to use, pleasant to the touch, non-slip and with no heat.

FISSMAN VEGA frying pans are the choice of those who cannot accept compromises when it comes to quality. Each product is a work of art, which combines reliability, versatility and durability. VEGA's innovative Greblon C3+PEEK coated cookware will provide you with excellent performance for years to come!